A question that commonly comes up after people discover the concept of limerence is: can I have the good without the bad?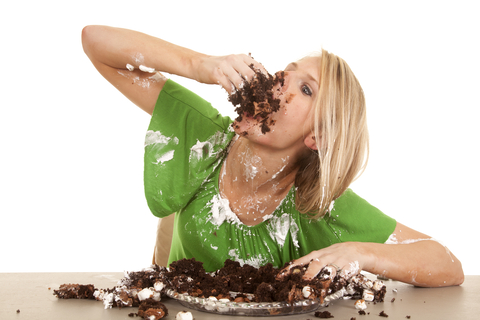 The euphoria of early limerence is intoxicating, delirious, delightful. It is glorious, and life-affirming, and when focused on another available person who you can form a healthy pair-bond with, then I'm all for it.
The downsides of limerence come later, once the transition from reward to craving has occurred, and the initial promise of mutual bliss in a close pair bond has been thwarted in some way. The trouble and torment really starts once giddy hope has soured into person addiction.
Within this framework, limerence is an inherent trait that some of us just have built into our brains. We have reward circuits that go into hyperdrive when presented with the supernormal stimulus of a person who fits our limerence archetype. Whether or not this romantic impulse transforms into addiction depends on a number of factors, but perhaps the key cause is uncertainty.
There are many psychological reasons why uncertainty is a powerful reinforcing mechanism for limerence. One important consequence of uncertainty is that it can lead people with a generally cautious temperament into indecision. Unfortunately, that can be a very bad development, as indecision worsens almost every stage of the progression of limerence.
This insight helps to illustrate why decisiveness is one of the key elements of purposeful living. Having a clear vision of who you want to be, and what you want your life to be like, helps to quickly reduce indecision about relationships. Cultivating a tolerance for change, combined with thoughtful decision making, eliminates many of the drivers that deepen limerence.
Let's work through the issues.
1. Clouding your feelings
Indecision causes trouble right from the start. When they first feel the glimmer for someone new, many people instinctively try to obscure the significance of their feelings from themselves and others.
For single limerents, this might manifest as excessive caution. They might be anxious about moving too quickly, choosing instead to bide their time and scope out the situation. Now, obviously, a certain amount of caution is prudent until you actually do get to know your LO and their situation – I'm not advocating blurting out your emotional excitement at first sight – but waiting too long can be just as counterproductive as moving too quickly. It's a delicate dance. People differ over how much trust and familiarity they need to feel before they warm up to romantic interest, and you have to intuit that from getting to know them. It's tough.
There is a helpful clarifying factor though, and that's honesty. If you know you are interested in them romantically, then you need to be clear on that in your mind as you get to know them. At some point you intend to declare your feelings, or withdraw fully once you learn they are unsuitable or unavailable.
Caution is not the same as concealment. If you try to develop a facade of platonic friendship to cover the churning cauldron of limerent desire within you, it's likely you will end up in the friendzone as a consequence. It's incredibly unlikely that you will slowly win them over with a long game of a complicated friendship, punctuated by occasional episodes of uncomfortable boundary-crossing.
For married limerents, indecision in the early stages instead manifests as bargaining and rationalisation. You might feel the glimmer for this exciting new person, but you don't intend to do anything so it's fine to get to know them better. OK, maybe you might keep flirting a bit, just to find out whether maybe you could do something if the opportunity arose, but you wouldn't go too far. Yes, it might be risky to fantasise about someone else and seek out a bit of euphoria supply, but you can handle it responsibly. You should probably avoid them, but where's the real harm in dallying in a bit of cheeky banter to add some spice to life?
Again, the lack of honesty about what your feelings are and what they mean for how you should engage with a new limerent object is the root of the indecision. You know what you should do, intellectually, but wilfully cloud the situation to keep from acting accordingly.
2. Rumination
The second point at which indecision becomes a problem is once you are properly hooked on LO and they are occupying most of your waking thoughts. Limerent rumination is seductive. It's pleasurable to relive good encounters with LO, plan for future opportunities to delight and impress them, and daydream about fantasy futures. Unfortunately, it also often delays you taking action.
Constantly, thinking, scheming, reviewing and fantasising about LO keeps them central in your mind, and reinforces limerent obsession. This habit also leads you to construct an imaginary version of LO, who may or may not resemble the real, actual person. This can be problematic when LO refuses to behave in the way you expect, based on how your fantasy version of them behaved in your internal world.
That can be unsettling, and worsen indecision. The insecurity of not wanting to do or say something that would make them think badly of you, coupled with the relief of anxiety that a pleasant fantasy offers, means you delay decisive action to resolve your uncertainty indefinitely.
Better to keep the fantasy hope alive than to take action in the real world and spoil it.
3. Compounding uncertainty
Oftentimes, limerence-amplifying uncertainty can be caused by a flaky LO. If they are indecisive, it generates uncertainty for you, because you spend so much time and energy trying to divine their true feelings from the mess of mixed messages they've given you.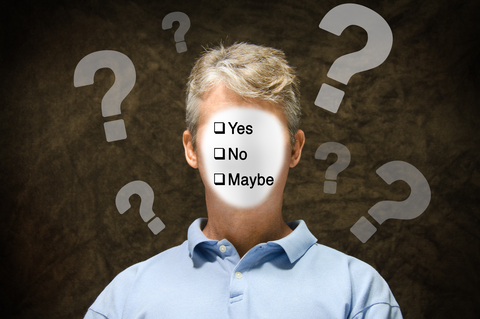 If you are similarly indecisive, clear communication becomes almost impossible. By not being direct and clear in your own communications, you are likely to be even more frustrated in trying to discern theirs. If you use hints and winks and subtlety to try and reveal your interest in a slantwise way that preserves pride and deniability, and they respond in an unpredictable way, you don't know if your failure to clearly telegraph your interest was the problem or their response to your overture was the problem.
Two people tiptoeing around the direct message that needs to be sent compounds uncertainty and worsens limerence.
4. Limerent languishing
Perhaps the worst time for indecision is when the limerence has progressed to a phase of prolonged inaction. At this point, limerents can become trapped in an existential crisis. They start questioning everything, doubting old certainties, doubting their life choices, doubting their sanity.
What do you really believe about love and life? Why can you not find satisfaction? How can you be trapped in a state of unrelenting desire and craving when you aren't even getting much pleasure from the situation anymore? You're emotionally tethered to LO, but in limbo about the status of your relationship.
This period of limerent languishing can seriously jeopardise existing relationships. Not only is the indecision about who you want to be with obviously destructive, the typical behaviour of an addict starts to creep in – lying about what you are doing, feeling and thinking; seeking clandestine meetings; rationalising your disloyalty and weakness. You construct your own personal hell.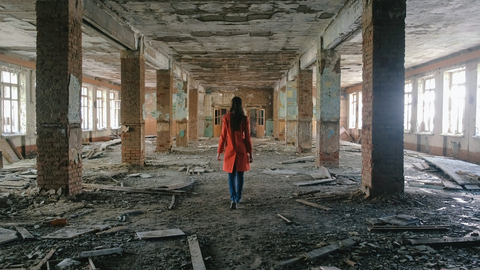 The length of time spent in this state of misery is determined by how long it takes you to make a decision and take action.
5. Erosion of confidence
Indecision is born out of fear. We don't typically dither because we haven't got enough information, haven't spent enough time analysing the situation, or haven't gathered the resources needed for action. We dither because we fear that we'll make the wrong choice, regret our decision, and wish we could go back in time and undo it. Indecision means keeping our options open, rather than burning bridges.
Making a decision means closing doors and losing opportunities. Once you make a purposeful decision and take action, the comforting illusion of limerent fantasy is impossible. For limerents who use rumination for mood regulation [link] that is a painful loss. It snuffs out the last vestiges of hope.
Thinking in this (very human and natural) way, is actually an error of reasoning. Indecision is not really open-mindedness; it's delay. Remain indecisive for long enough and events tend to decide the issue for you, one way or another.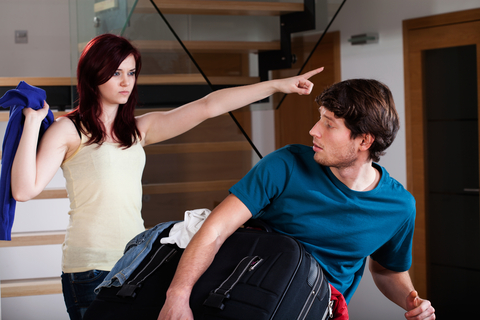 Failure to decide erodes self-confidence. You subconsciously train yourself into the belief that you are not empowered to decide, you are not confident in your choices, you lack willpower, you aren't in charge of yourself, you are too fearful to take a leap of faith.
You may not realise it, but all the while that you languish in inaction, your self-esteem will be ebbing away.
6. Loss of direction
Finally, the broadest outcome of indecision is a loss of direction in life, generally. When we are unhappy with our situation, but fear that a change may be worse than the status quo, we can end up in a state of paralysis.
How do you decide what action to take when every option seems unappealing? If you are married but infatuated with someone else, then do you confront how you have harmed your relationship, jump ship and destroy your integrity, or slowly sicken inside as you are torn between conflicting desires?
If you are trapped in an unhappy marriage, but committed with responsibilities to children, do you surrender your own happiness or disrupt family harmony?
Difficult decisions put off for too long can mean you sleepwalk into a state of no longer knowing what you want [link]. That makes it very hard to take decisive action.
---
The power of choice
All these sources of frustration and despair stem from indecision. Fortunately, there is a remedy, and it's made clear by a classic psychological question: what would your life be like in 5 years if you carry on as you are?
If you want your life to change for the better, you will have to do something differently. You have to make a decision and find out the consequences.
The trick, of course, is to make good decisions, and the best way to improve your odds of choosing well is to work on the other elements of purposeful living: honesty, self-awareness, openness to renewal and the courage to take action. Once you understand yourself better, have a vision of what sort of life you want to be living, and can be honest with yourself about your true nature and accept it, the best decision quickly becomes clear.
If you want to be a good husband and father and succeed in your career, you obviously need to reduce contact with the flirty younger woman at work. If you want to be an artist but your husband is unsupportive and cynical, you are going to have to have a decisive talk about it and find a space where you can create in peace and freedom. If you want to make money, you are going to have to prioritise building valuable skills and learning about sales and marketing instead of browsing YouTube for get rich quick schemes. If you want a simpler life, you are going to have to think carefully about where you live and what you can do without.
You'll make decisions that don't work out as you'd hoped. Guaranteed. But, if you want to move your life forward you are going to have to make decisions, make changes, take positive action, and learn from the outcome.
It definitely beats praying for Providence to save you.