In the last post I outlined some of the key elements of purposeful living. Today, I'm going to dive a bit deeper into one of the foundational principles: honesty.
Honesty can be interpreted in several ways. One meaning is honest conduct, or personal integrity. I've written about that before, so will not repeat it here. Second, honesty can also mean simple truthfulness – not telling lies, or denying reality. Third, honesty can also mean forthrightness – the willingness to share your true opinion as a matter of principle, even if it makes other people uncomfortable.
These principles are all related, of course, but they are distinct in important ways. A dishonest person may deceive by telling direct lies, or by keeping secrets. Lies of commission and omission.
When it comes to purposeful living, all these forms of deceit are relevant, but the most ambiguous situation is keeping secrets. Let's explore those issues.
White lies
Some lies are obvious. Failing to tell your spouse that you are having an affair is blatantly dishonest. But what about failing to tell your spouse that you are limerent for someone else? Is that dishonest?
Well, at one level it is, but most people would accept that certain internal thoughts and feelings can be kept private for the sake of marital harmony. If we blurted out every mad thought or uncharitable feeling that assails us, our relationships wouldn't last long. That's why "white lies" exist.
I think this is one of the grey areas when it comes to honesty – when is silence a deliberate attempt to hide secrets, and when is it a pragmatic choice to not volunteer distressing information? When is it reasonable for someone to decide what their spouse does or does not "need to know"?
Ironically, I think the only realistic answer to this question of how to honestly communicate with other people, is learning to communicate honestly with yourself.
Self-honesty
Most people aren't really sure where their opinions come from. Now, that's quite a bold claim, but I'd argue that we are all a very jumbled mix of influences – family traditions, cultural heritage, educational background. As we grow up, we absorb the prejudices and wisdom of parents, teachers, peers, celebrities, and even (god help us) politicians.
These influences are mapped onto our own personal temperaments, which have a biological grounding. We are neither blank slates nor genetic automatons, it's the interplay between intrinsic and extrinsic drives that shapes our nature.
There is no escaping this conflict, but it is possible to make sense of it and make purposeful choices about your life once you understand how the forces interact. The root of success is honest, dispassionate analysis of who you really are and who you really want to be, and how to reach a compromise that honours both those principles.
To give an example: imagine a shy child who grew up in a family of extraverts, went to a school that valorised sporting excellence, and then went to University to study engineering. Right off the bat, we can probably speculate about possible scenarios that explain this person's life experience – internalised beliefs that their shyness was shameful, an uncomfortable school life as a bookish introvert surrounded by jocks, concerns about how they ended up choosing Engineering as a discipline. Our minds immediately and naturally start telling stories that flesh out the emotional landscape around the basic facts.
Self-knowledge is all about questioning those stories that accumulate around your life. Did I really choose Engineering because I wanted to do it, because it pays well, because it impresses other people, or because I wanted to please my father? How can you find the answer to these questions?
Most directly, when scrutinising the influences that have shaped your life choices, your body will often let you know when you have hit upon an important truth. There is a particular brand of discomfort that gets you in the gut when you finally acknowledge you've been telling yourself an ego-protecting lie.
Irrational anger
Another good tell for spotting unexamined beliefs happens when arguing with someone who has a different perspective. If you feel yourself getting irrationally angry when disagreeing about morality, politics, culture or faith, it's likely that the other person has challenged a core belief that is so deeply held that you've never questioned it.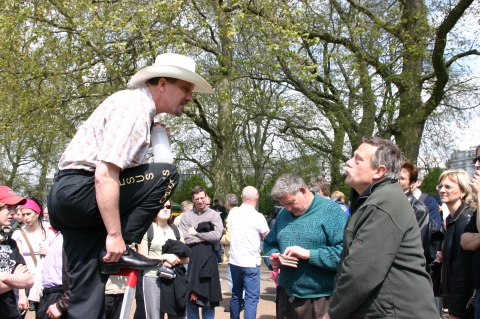 The psychology behind this is that you realise in the moment that you can't summon a decisive rational argument, but the principle really matters to you, so you become intensely defensive. A core belief is threatened and the stakes are so high that you will fight for it by any means, niceties be damned.
If you have this experience (and most people will) it pay dividends to spend some time (after you've cooled down) to really interrogate why you hold this belief so strongly. It is likely to be a foundation stone of your ethic. It deserves thorough analysis and deeper scrutiny.
Integrating the shadow
Usually, this sort of self analysis and truth-excavation is constructive, if you review your choices with an open mind to find the true basis of your decision making. It can get a bit dark, though. Some truths are ugly.
We instinctively hide thoughts or feelings we would rather not have. We suppress the instincts that we know other people would disapprove of. This is a necessary part of maturation, socialisation and civil responsibility, but it isn't cost-free.
Jungian psychotherapists refer to these suppressed or denied aspects of our personality as our "shadow". This is the part of yourself that you would rather not look at – not necessarily because it encompasses urges that are evil or malevolent, but because you don't want to admit it is a part of you.
Jung argued that the shadow will assert itself if you do not face it. Let's say someone grew up in a highly religious community, were ashamed of their libido, and married young as a virgin. Their erotic drive would likely be a source of shame, but it's not going anywhere. As they age into adulthood those repressed feelings will cause trouble – in the marriage, with extramarital affairs, or with other emotional outbursts that aren't so obviously linked to sexual frustration.
To avoid being mugged by your shadow, you need to get to know it, acknowledge that it's part of you, and ideally, find healthy outlets for those urges that do not compromise your principles or integrity. Be honest about the less admirable aspects of your character and you will understand yourself better and make better decisions.
Preference falsification
A surprising amount of daily life involves play acting. We adopt a different persona for the different roles we have in society – teacher, student, partner, parent, child. Again, this is natural, but taken too far it can result in alienation from our own true natures.
Political polling has gone through something of a crisis recently, in large part because of an uptick in preference falsification. People will lie about their beliefs to avoid social stigma. A cynic could argue that such people have something to be ashamed of if they secretly vote for a wicked party or candidate, but would they really prefer to live in a society where people are afraid to be honest?
A lack of openness at a social scale is mirrored at the personal scale. Just like the gut-squirm of discomfort when you know you are lying to yourself, there is a definite physical response when you say something publicly that you do not believe to be true. Become attuned to this feeling. It can help you avoid the psychological corrosion that comes from persistently concealing your true beliefs.
Turn to the light
OK, so this has been grim reading so far. That reflects the fact that self-awareness often comes from accepting unpalatable truths. Let's turn to the positive.
The benefits of being honest with yourself are manifold. You are far more likely to get what you want (and what you need) if you understand the origins of your feelings and beliefs properly.
If you truly value helping others, then finding a career that allows you to make money doing so will mean both personal and professional satisfaction. Equally, though, if you are ambitious and want material wealth, it is healthy and positive to let go of any self-reproach that you should want to be a paramedic or carer. Instead, find a lucrative and honest job, and then give money to charity.
One of the greatest blessings of living in a free society is that there are many paths to success, many vocations to try, many family structures to form, many types of people to love. If individuals play to their personal strengths and utilise their talents to the full, the whole community benefits.
The sweet spot for purposeful living is to be honest with yourself about your intrinsic temperament, but also gain an understanding of where your limiting fears come from. If you try to force yourself to live in conflict with your nature you'll never find peace. If you let fear constrain your choices, you will never reach your potential. It's all about balance.
Being honest with yourself involves letting go of ego and self-promoting lies and paying attention to the visceral emotions that tell you when a hidden truth is being concealed by rationalisation. If you figure out who you are at a fundamental level, then you can project forward to the best version of yourself that you can picture.
Working towards that ideal is the best hope for living a fulfilling life, pursuing a purpose that both aligns with your temperament and transcends your limiting beliefs. We need to be true to ourselves, but also strive to improve. Being honest with yourself is a necessary first step for validating and prioritising your goals.
Finally, to bring this back to the original concern about white lies: if you have a good sense of self, and become adept at reading the emotions that accompany ethical lapses, it is a lot easier to know when you are keeping secrets to protect yourself versus acting in good-faith discretion.
Trust your gut is a cliche, but it is surprising how good our bodies are at registering a mismatch between deep truth and superficial excuses.