One of the biggest changes in the world of romance that has happened over the course of my life is the rise of online dating.
My youth wasn't just pre-Tinder, it was pre-internet. That makes it hard for me to properly understand how romantic and sexual behaviour has been altered by the availability of dating and hook-up apps. I've never used them, and so I kind of study the effects they have on people like an anthropologist observing a tribal ritual they don't fully understand. I have no personal experience to draw on.
During my field trips among the interwebs, I came across this really interesting and thought-provoking TEDx talk about this very topic. The presenter, Dr Michelle Drouin talks about the impact of a world where we have – in principle – online access to everyone we've ever been attracted to.
It stimulated a few thoughts for me.
Marketisation
The first is a reinforcement of the view that dating and romance have become much more marketised by having an online catalogue of suitors to swipe through. In combination with the profit motive of the app companies, that does seem to have made everything much more transactional and… well, ruthless.
In the past, the pool of people available for romantic connection was much more limited. Now, all the available people in your vicinity can be searched online. It's not just a market, it's a mass market.
Some of this choice is illusory, of course, as it depends on a match. But as Dr Drouin points out, there is almost no risk associated with reaching out – no one will ever know if there is no mutual interest. That seems like a positive thing at first, but it also means that seeking a potential partner (or even just date) can become a low stakes and low effort process.
Anything done causally tends to be less valued – which might also explain why relationships that started online rather than by real-world connection are twice as likely to fail.
Backburners
The second really interesting idea is the concept of "backburners". I've talked about this a bit before in terms of narcissist limerent objects who hold you in reserve as a backup plan, but I'd never really thought in terms of scale, and how having an online catalogue available means a hugely expanded pool of people to keep in a holding pattern.
It made me think of the days when kids would collect cards or stickers of their favourite sports team, movie, or hobby, and then trade their duplicates in the playground to other collectors.
And if the research is correct, it's not just narcissists who do this, it's most people. Dr Drouin's interviewees even had sufficient self-honesty to admit that they consciously thought of these other people in their lives as "backburner" options, just in case their current relationship begins to deteriorate.
It's another aspect of marketisation.
Why words are so potent for limerents
The third big takeaway was the strangely paradoxical intimacy of online connection. As Dr Drouin describes it, the combination of presenting your best image, having time to carefully craft your words (investing creative effort), and having some latitude to read what you want into their replies, results in an immediate sense of shared intimacy.
I also think that reading is a uniquely immersive experience. The voice of the author is there, right in your head. For limerents, written communication can be especially potent – you get the immersive intimacy, you can re-read their messages as often as you like (repeat rewards), and you can ruminate for hours over exactly what they meant and what secret meanings they carefully placed between the lines.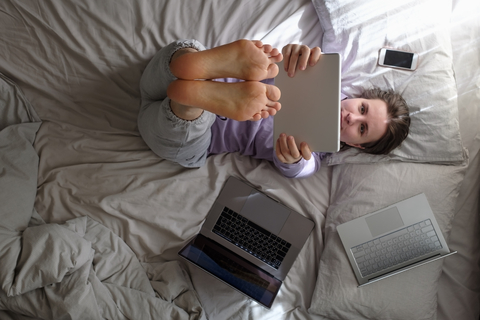 It's amazing how much you come to feel you know someone from their writing. I often get a jolt when I read the twitter feed of an author I love, and discover their worldview (at least as expressed on twitter) is completely different to what I expected from their work.
It's easy to project our own hopes and beliefs onto the words of others.
What counts as cheating now?
A last thought, and the closing theme of the TEDx talk, is how online connections have made the ethics of relationships more blurred than ever. There are some obvious limits that most people agree on (sexting is right out, for example), but does online oversharing constitute infidelity?
I've written before on this, and in actual fact it is just a new spin on the old question of how to negotiate relationship boundaries effectively. But there is no doubt that the accessibility and ease of texting, emailing, and social media makes everything more fluid.
For me, a critical factor is how intentional the behaviour is. Engaging in conversation to cultivate a "backburner" is dishonourable at best, if it's thoughtless, and scummy manipulation at worst if it's deliberate. The whole concept of backburners is pretty unpleasant if you are in a committed relationship – it's one thing to be aware of the attractiveness of other people, but it's quite another to be screening deputies.
---
The huge increase in scale and ease of access to potential partners created by the online world has profoundly altered human mating behaviour. As a web-anthropologist, I count my blessings that it's a world I can go home from.