A few weeks ago, I published a limerence quiz, designed to give people a quick and easy way to assess whether or not they fit the "limerent" personality profile when it comes to falling in love.
We've now had over a thousand people complete the quiz, so that gives us some data to work with!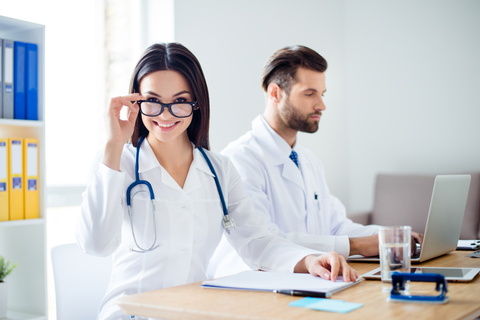 The quiz was based around Tennov's original set of symptoms, supplemented with some additional ideas devised and refined by the LwL community. I also had the additional goal of trying to use the data to better understand limerence, by looking for clusters and correlations that might show up something interesting about which experiences are very common among limerents and which are a bit more unusual.
We can start with a data dump on some of the key outcomes, with a quick reminder of the assessment method. The quiz scores 25 questions on a Likert scale – that is, each question is rated from "Strongly disagree" to "Strongly agree". By converting that scale into a numbered score, we can do some stats.
The range of results
Twenty one people out of a thousand scored 100% on the quiz. That means they strongly agree with all 25 statements about limerence. The lowest score was 15%, which is strongly disagreeing with almost all statements. That's gratifying to see, because it means the quiz does have the ability to distinguish between limerents and non-limerents.
The average score for the entire group is 72%, but that of course includes everyone who is counted – it doesn't mean that most people are "72% limerent".
The most common score was 83%, which is probably a better measure of the "typical" score for someone who has found their way to this site and wants to see if they fit the limerence profile.
So, to go out on a simplification-limb a bit, the typical quiz taker (who is preselected to be investigating limerence and wanting to know about their own psychology) has an average score a little bit more than "Agree" for the full bank of questions.
What are the most interesting results?
The statement that was most consistently agreed with was:
"When they seem to like me, I feel exhilarated and "high"
The question least agreed with was:
"When I am anxious, I can calm myself by remembering a happy encounter with them
Closely followed by:
"I sometimes crave solitude so that I can spend time fantasising about them
Despite these statements scoring low on average, the commonest response for both of these questions was still "Agree". That apparent contradiction can be explained by looking at the variance in responses – that is how inconsistent the answers given were for each question.
The most contentious statements are those that some people strongly agree with and others strongly disagree with. The most contentious was:
"I frequently and compulsively check their social media
…which I confess surprised me. I thought that social media is such a powerful and low-resistance temptation that almost everyone would succumb. Of course, it could be that some limerents don't use social media much, or some LOs might not be active on it, or that limerents are worried about their browsing history revealing their secrets.
Perhaps this is a lesson in better formulating questions, or perhaps it's a genuine but surprising result.
Next most contentious was:
"I sometimes neglect my responsibilities to get more contact with them
That seems a bit more understandable, as it is a step further along the addiction path that some people would be better able to resist.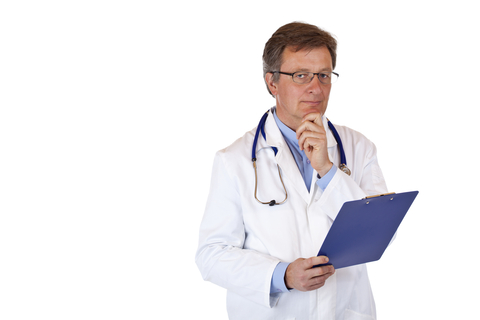 Positive and negative aspects of limerence
When I designed the quiz, I consciously sorted the questions into two groupings that could broadly be defined as the positive and negative aspects of limerence. By "positive" I mean those experiences that are exciting, exhilarating, or otherwise pleasurable. The statements that could be associated with uplifted mood and feeling better about life. So, statements like:
"The whole world seems brighter and more colourful since I met them
(commonest answer = "Strongly agree")
For the negative experiences, it was aspects of limerence that are debilitating, upsetting, or in some way damaging to mood. So, statements like:
"I sometimes cannot stop thinking about them, even if I want to
(commonest answer = "Strongly agree")
I did this because I had a hypothesis that some people may experience only (or mainly) one of the two "poles" of limerence. I thought there may be some evidence of "happy limerents" who don't really experience the negative symptoms of person addiction, and also some "anxious limerents" who mainly suffer pain and don't even get much of the joy of an early period of giddy infatuation.
Turns out, I appear to be wrong. Here is a plot of every person who has taken the survey with their average positive score plotted against their average negative score.
Obviously this is a bit complicated to interpret, but there are a few key points.
First, if there was perfect congruence between experiencing positive and negative aspects of limerence, the plot would be a diagonal straight line that went through the origin (the 0,0 point on the axes). As it stands, there is a clear positive correlation here (especially by the standards of social sciences; R2 = 0.58 for the aficionados), indicating that the two aspects are linked.
Another way to break this dataset down is to sort people into categories. If we take the answer "Neutral" as the threshold for whether or not someone experiences a positive or negative aspect of limerence, we can split the graph into quadrants: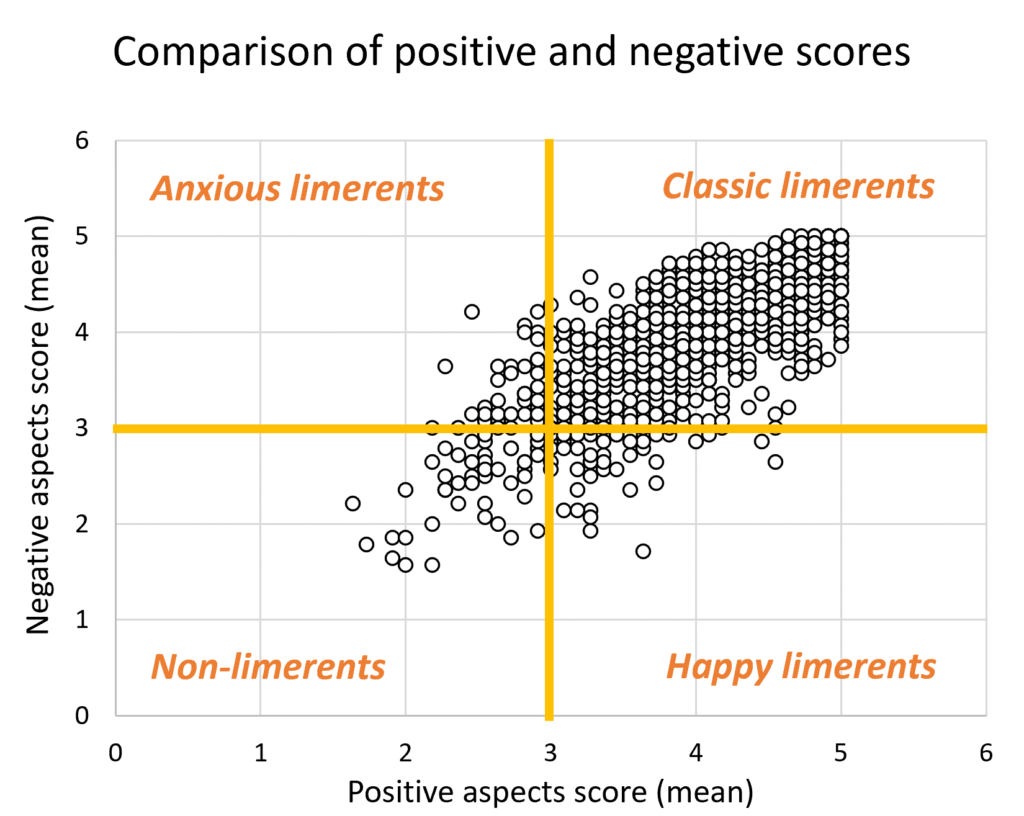 By this sorting mechanism, we can split people into classical limerents (82% of total), happy limerents (5%), anxious limerents (5%), and non-limerents (8%).
It's easy enough to explain why we have low numbers of non-limerents and happy limerents (they won't be actively seeking out this site!), but the low prevalence of anxious limerents suggests that my hypothesis is wrong. It does seem that the good and the bad go together for the vast majority of people.
What next?
Now, I can accept that normal people may not be as excited about this analytical stuff as me, but I am hoping to keep building on this data and clarifying exactly what limerence is and isn't. In that spirit, there are obviously limitations to this survey, principally:
Only people who have found this quiz by searching will be answering the questions
The questions are somewhat subjectively written and categorised (e.g. is "I really want them to feel as intensely about me as I do about them" a positive or negative statement?)
The solution to issue 1 is to sample a much broader population at random about their experience of romance. That will take time and money. But, the solution to issue 2 is constantly seeking feedback and wisdom.
So, I'll end once again with a call for any ideas or insights from people who have taken the quiz or have views on the questions asked.
Let's keep polishing till it shines.