Reader Vincent suggests "The Power of Habit" by Charles Duhigg as a useful perspective on limerence.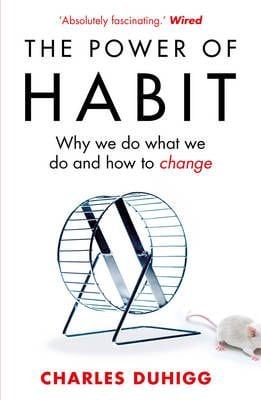 It's a great book. I really enjoyed it, and there are some fascinating insights. One of the episodes that really stayed with me was a man who had suffered a stroke that severely damaged the region of his brain that is needed for retention of new memories. He was therefore stuck in a strange world where he couldn't lay down new memories. Despite this, he was able to learn new things. After moving to a new house with his wife, he could not explain where the kitchen was to an interviewer, but when he was hungry he would get up and walk into it to make himself some food.
That anecdote illustrates the core principle of the book: habits become ingrained at a deep level of the brain – not at the high "executive function" level. A great deal of our day-to-day behaviour is driven by habits, not by thinking. The implications for limerence are clear.
1) Limerence is a deep rooted drive
Not a hard one for a limerent to accept this, but it shows that the impulse to seek LO is not being driven consciously. It's an urge driven by the subcortical parts of the brain to initiate reward-seeking behaviour. In Duhigg's model, habits are composed of a three step process:
Cue → Routine → Reward
The cue is the trigger that activates the habit "circuitry" and starts the routine. It's a little slippery what exactly the cue can be. It could be a fundamental urge like hunger that initiates food-seeking behaviour, leading to reward when you've successfully made and eaten a bacon sandwich. Or, it could be more subtle – a time of day or event that recurs and has become associated with a habit. Like always wanting a cigarette after lunch, or making a cup of tea as soon as you get home from work.
For limerence, the concept of an identifiable cue is the part of the model that is least useful for me. First, there is the problem that LO is such a dominant part of your mental landscape that everything is a cue. Life is basically one giant hyper-cue for LO. Thoughts of LO can be triggered by a song, an idea in a book, a similar-looking person, a smell, a room where you once met them, social media, the work environment, etc. etc. Added to this is the even slipperier concept of emotional cues: when you feel sad, or happy, or lonely, or fearful, it can trigger thoughts of LO as a (ultimately counterproductive) self-medicating pleasure. So, the problem in identifying a specific cue that triggers limerence-reinforcement is that almost everything can be a cue.
The next two stages of the model are more straightforward. The "routines" most limerents fall into are rumination and/or LO-seeking. The myriad cues all trigger the urge to contact LO either in person or in your imagination. The "reward" of course, is the big old surge of dopamine (plus other neuromodulators) that make you feel all vibrant and giddy and alive. I'd also suggest that limerence constitutes a hyper-reward. I can't think of many other life experiences that come close to the euphoria experienced during the early stages of limerence. Chocolate doesn't quite measure up.
2) Once the habit is ingrained, it is difficult to shift
Once the pattern of neural activity that encodes the habit is reinforced, it becomes effortless to execute. No cognitive strain needs to be exerted to initiate the routine. In fact, the routine often begins before the conscious awareness that you are doing it AGAIN catches up.
I've touched on this before in relation to rationalisation, we often act-then-justify, rather than think-then-act. It's a psychological truism that we are cognitive misers – we won't expend energy on thinking through a problem if we can instead follow an effortless intuition or ingrained behaviour. That reality is a major part of why it is hard to break a habit. You have to not only exert willpower to intervene when "autopilot mode" has kicked in, but to make the intervention last, you also have to weaken the established patterns of neuronal activity in the brain. And it can take longer for an executive-based behaviour to be learned than something as instinctive as pair bonding (i.e. "I'm not going to do this anymore because it is disrupting my life goals" is less weighty than "must mate with super-attractive person").
3) Changing the habit may be possible…
Despite recognising the difficulty of kicking a bad habit, Duhigg does offer hope for a strategy for changing. It is based around identifying the details of the cue → routine → reward pattern, and substituting a new routine and/or reward for the old one. He gives the example of breaking his own habit of snacking on cookies. His suggestion is that analysis of the cue is the starting point for fixing the habit. If the routine is to interrupt your work and get up from your desk go to the cafe and grab a snack or drink, he suggests looking beyond the simple explanation. Perhaps the cue is not hunger, but boredom. The urge to go to the cafe is not for food, but for company. In this scenario, the actual reward is spending time socialising with colleagues, not food. Once the true cue is recognised, you can substitute the routine to get the same reward. In his case, you would go to a colleague's office, or the cafe, just to chat. Same cue, same reward, but zero calories.
Whether or not you find this example persuasive, the central thesis is that switching the dysfunctional routine for a superior one is the best bet for changing a habit. You'll still want the reward. You'll still experience the cue that triggers desire. The key is finding a new routine that satisfies it.
That's the point where I think limerents will struggle. What can you substitute as a routine that will give a limerent reward without either involving LO or ruminating about them? Transference to another LO is possible, but also fraught with problems, of course. It could be a failure of imagination for me, but the reward being sought is so specific and so linked to LO that it is hard to devise a way to redirect it onto a different routine.
4) Can the habit be broken?
So is there no hope?
There's always hope. I think the message of Duhigg's book is powerful – that more of our lives are governed by habit than we realise – but it is possible to override old habits with training and determination. The executive centres of the brain do have ultimate control. We can regulate our impulses. It's not easy, but I've spoken before about possible strategies.
The key thing for me is that we all have habits that we have fallen out of, so we know it's possible. I used to have the habit of taking a walk every lunchtime, which was rewarding, restorative and enjoyable. But I took on more responsibilities at work, time pressures crowded in, and I just… stopped. I didn't exactly make a decision, I just missed a few days, then missed more days than I took, and then I just wasn't doing it anymore. I'm sure if I went for a walk next week I would find it rewarding. I even think it was a good habit that I should probably have continued. Nevertheless, a change in my schedule (shortening lunch to fit more work in) was enough of a disruption to override the old habit.
Now, obviously, skipping a midday walk is a different order of magnitude to overcoming limerence. But, for me, the route to mastering limerence was not in repurposing the habit loop, it was in over-writing the whole routine with a new mental association: LO = reward, was superseded with LO = risk.
A wider perspective on this is that it is very valuable to understand exactly what is rewarding about LO, and why you might be seeking it. With the usual reservations, it may well be worth exploring your emotional drives with a therapist of some sort, to try and identify both the reward that you are getting and why you are seeking it now. Also, I really do like the idea of deeply analysing the cues that trigger the habit cycle. All knowledge is useful in the project of understanding yourself and deciding to take control over your life and fate.
I recommend the book. It's worth a try, and at the very least, you'll learn a lot of interesting stuff about how people work.