I've been thinking again about what limerence is.
We have a fairly well-established list of common symptoms, and so limerence is most easily defined as "having enough of those symptoms to qualify". But there are deeper questions that aren't really captured by that kind of categorisation. Questions such as: is limerence a psychological state that is entered, or a personality trait? Is it abnormal or extraordinary? Are certain people "limerents" or could anyone in principle have a limerent experience under the right (or wrong) set of circumstances? Should limerence be classified as a mental disorder, or is it the way that a significant number of people experience romantic love?
In the spirit of limerence, I'm going to ruminate about these issues. But, you know, out loud.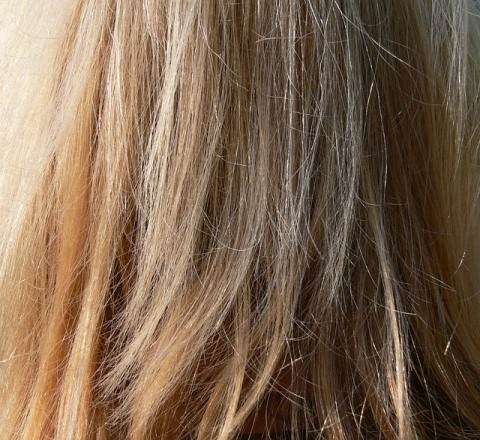 The Tennov model
The obvious starting point for refining our definition is to go back to the original creation of the term. Dorothy Tennov conceptualised limerence as a form of romantic love that many people experience (especially in the early stages), and she was prompted to name it by the "discovery" of non-limerents. She had implicitly assumed that all people experience infatuation as a feature of romantic love and was surprised to find through conversation with friends that not everyone does. Through a combination of personal interviews, her own clinical practice, and literature review, she formulated the idea of a distinct aspect of the love experience defined by a specific list of symptoms. She viewed limerents as people who had a propensity for a profound depth of infatuation that marginalised all other concerns in life, and non-limerents as people that experienced love without this overwhelming early infatuation.
Tennov has been reasonably criticised for the lack of scientific rigour with which she founded her ideas (and the opaque etymology of the word limerence), although this interview-based approach remains commonplace in the social sciences, and has obvious utility for hypothesis generation. It's fair to say, however, that the hypothesis that humanity can be sorted into "limerents" and "non-limerents" has never been tested in any meaningful way.
The Wakin-Vo model
More recently, a more systematic definition of limerence has been proposed. Albert Wakin was a colleague of Tennov's for a short period, and is one of the few investigators who has made a deliberate effort to advance understanding of the condition. He conceptualises limerence as a state of psychological distress, and has described it anecdotally as "a cross between addiction and OCD". Within the paper in which he and his co-author Duyen Vo present their model, they provide this clarification of how they see limerence and love differing:
In a love relationship, one often experiences initial intense feelings and reactions, and absorption in another person that tend to moderate over time, allowing for a more stable, intimate, trusting, and committed relationship to flourish. However, in limerence, said initial feelings and reactions somehow fail to subside, becoming increasingly intense, pervasive, and disruptive, ultimately rendering difficulty in controlling one's thoughts, feelings, and behaviors.
Wakin therefore criticises Tennov for equating love and limerence. Although not stated, there seems in this view an implicit suggestion that "intense feelings and reactions, and absorption in another person" is a universal experience for people falling in love – and that it is only the intensity that varies between individuals. I may be reading too much into this, but it seems to imply that people fall on a spectrum of infatuation intensity, with limerents being at the extreme end, and defined as those that experience Wakin's "initiating force" of an intense need for emotional reciprocation.
The progression of limerent feelings
I'm not sure these models are necessarily incompatible. Tennov classifies limerents as people who have a propensity for a particular kind of romantic love. Wakin defines limerents as people who have fallen into a state of psychological distress as a consequence of dysregulated infatuation. To try and rationalise this, I've organised the progression of limerence into a flow chart: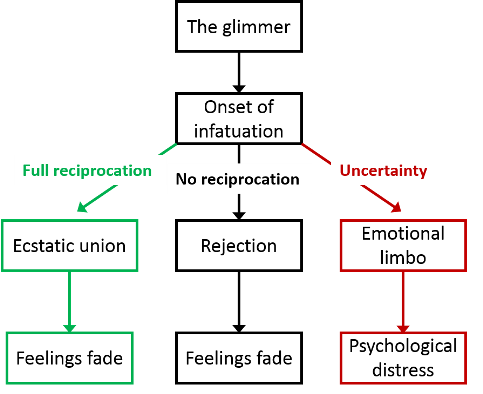 The key thing for me is that the emotional and psychological experience of limerence is the same, up until the point at which reciprocation is actively sought. If the infatuation is reciprocated, then… hallelujah. If the feelings are emphatically not reciprocated, then a period of personal agony is inevitable. In both these scenarios, however, the intense feelings of infatuation fade with time (with the speed varying notably between individuals). In contrast, if reciprocation is uncertain, then the emotional limbo of not knowing how LO feels drives the limerent into an intermittent reinforcement schedule that deepens the infatuation into full blown person addiction.
In this framework, the Tennov model is the whole diagram. Limerents are the subset of people in the world who can enter the funnel at the top. The Wakin-Vo model is the red pathway. Limerents are the subset of people who end up in the trap of emotional limbo and reinforcing psychological distress.
The existence of good limerence
For me, my first trip down the red path was the time I realised I was a limerent. It's just that all my previous limerence experiences had followed the green or black paths – but the progression of the emotional phenomenon felt identical up until that point. As I've said before, my wife and I were mutually limerent and it was amazing – the most exhilarating and euphoric experience of my life. The fact that a repeat episode years later when it wasn't welcome went wrong, is not an indication that the phenomenon itself is a mental disorder.
The Wakin-Vo model identifies the people who need psychological support, but the Tennov model suggests something intrinsic about the way that people differ in their experience of romantic love. The reason that mithering about these definitions is important in my view is that it shapes how we respond to limerents in distress. If limerence is a psychological disorder by definition then it misses the possibility that there is a common psychological substrate for good and bad (red and green) limerence. That said, the broader definition misses the possibility that some people may have a propensity to take the red path. When the drive to pair bond consistently fails to properly establish that bond, things go wrong. That failure could come from a flaky LO who is inconsistent or unreliable, but it could also come from the limerent having an attachment disorder meaning the bond never stabilises, or they never feel secure enough in the reciprocation, so uncertainty is a constant feature of their relationships regardless of LO's behaviour.
Overall, I prefer the Tennov model, but we certainly need more evidence as to whether the limerent/non-limerent binary is meaningful. Whether limerents are suffering a mental illness, or whether it is an inherent feature of their personality, will surely colour what the appropriate response to distress should be: treat the limerence, or treat the circumstances that have steered it onto the red path.
Well, I guess that's what I think about that. More research needed.