Limerence is an extraordinary desire. The intensity of our longing for LO falls well beyond the usual range of everyday experience, which is probably why we find it so easy to believe that our LOs themselves are extraordinary.
One of the reasons I like the person addiction model of limerence is that it fits with this truth: that the desire created by limerence is exceptional. Just as addicts report feeling powerless to resist their drug of choice, limerents report all their resolve and determination evaporating at the hint of an opportunity to make contact with LO.
Based as I am in the usual neuroscience-based perspective, I've been wondering lately what it is that makes the limerent desire so much stronger than all the other things in life that we want. Why is limerence categorically different from, say, the desire to watch a good film or eat a tasty meal? Again, the addiction analogy is a useful starting point, as there's lots of research into how overwhelming, irrational craving can lead to compulsive behaviour.
What is addiction?
There is a range of opinion out there on why addicts appear to be incapable of controlling their urges. The two poles of opinion could be summarised as:
Addicts lack self-control and have poor character. They face the same challenges as everyone else, but are too weak-willed and irresponsible to do the right thing. Their protestations that they cannot resist their urges are just an excuse to justify getting more of the thing that they desire. 
Addiction is a mental illness. Built in vulnerabilities in their brains, or emotional trauma earlier in life that has altered their psychology, means that addicts are simply not able to regulate their behaviour like healthy people. 
So, entirely to blame, or entirely blameless, are the extreme scenarios here.
When applying this same analysis to limerence, we could claim that the limerent knows exactly what they are doing, and is merely justifying their LO-seeking to themselves as an excuse to get more supply. The counterargument would be that the disrupted neurochemistry of limerence renders the limerent helpless to resist, and incapable of sound judgement.
As usual with extremes, there is much to be learned from each perspective, but the truth probably lies somewhere in between. Yes, we limerents are fully aware of how much we crave reciprocation and know that we often self-justify in order to get it, but we also know that it can be really hard to stop the behaviour, even when we genuinely want to.
What is desire?
Our normal experience of desire is kind of multistep. A cue of some sort in our environment triggers an idea:
Oh! Wouldn't it be nice to have a cookie/check my phone/go for a walk/daydream about a holiday?
We then deliberate on the idea, and weigh the pros and cons – kind of like a mental committee meeting to think through the implications:
Cookies taste great/but I'm trying to lose weight/they cost money/but not too much/maybe I should finish my emails first.
After that deliberation we ultimately decide whether or not to take action to satisfy our desire:

For me, the most compelling reason why the simple "addicts are just weak" model is wrong, lies in the urgency of the limerent drive. Here's the equivalent decision-making process for limerent desire:
In limerence, it's like there's a direct link from a subconscious cue to an urgent drive to action. We can be acting before we even realise what we are doing. The craving for contact, the intrusive thoughts, the restless need to get some sort of LO-based relief, they bypass our deliberation committee entirely. Rather than weighing up the pros and cons and thinking through all the possibilities, limerent cravings lead straight to action unless something overrides them.
Executive override
That last idea – of an override mechanism – is the reason why the "addicts are blameless" model is also wrong. We are not helpless automata, enslaved to our urges. We know we can make a decision to stop, even in the grip of limerent desire, even though it would take a mighty act of willpower. We have an executive brain that can intervene to stop us taking action when we know, intellectually, that it will be harmful.
It's not impossible to resist compulsive craving, it's just very difficult.
In our cartoon of the desire pathway, we have to add an additional step. The point at the end, where a higher authority steps in and vetos the decision of the committee:

This executive override is a powerful protection mechanism that buys us the time to reconsider, to cogitate and deliberate about a decision again. Crucially, it can be fast – faster even than the runaway locomotive of limerent desire. The emergency override can stop the momentum to take action and redirect the craving back to committee for proper review.
The key to resisting limerent urges is likely to lie in this executive override mechanism. It's difficult to stop environmental cues from making you think about LO. It's difficult to break the connection between LO and reward. It's difficult to stop the craving once it's started. All of these things are possible, but the starting point, the most immediate positive action that you can take, is to train your executive override to protect you from harm.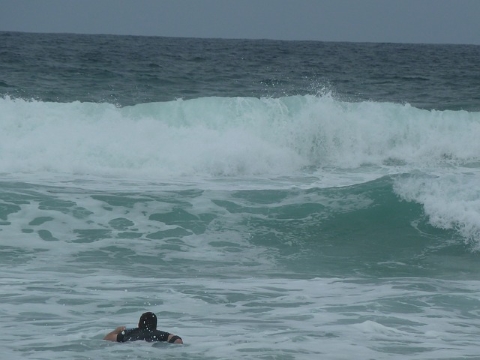 So the idea that addicts or limerents lack self-control is both right and wrong. When faced with a compulsive desire, any hope of careful deliberation is crushed by the urgent drive for action, but our executive override can kick in and save us. Self-control is like a final barrier that can deflect the limerence cannonball back into the "cogitation" stage. That gives you a chance to make a better decision.
The final challenge is to develop that skill of intervention, and make sure you don't fall into a different trap: the temptation to let your limerent brain sweet talk your executive into joining its schemes. Then your override system is instead spending its cognitive power on concocting clever rationalisations as to why it's fine to seek LO.
That's when you really get in trouble…