When Dorothy Tennov published her book, Love and Limerence, her goal was to systematically analyse romantic love and define the experience of being in love. She ended up articulating the pattern of behaviours and sensations that characterise limerence, contrasting it from the experience of non-limerents falling in love.
The relationship between love and limerence is complex. More recently, those few psychologists who have researched the phenomenon have tended to focus on the pathological aspects of limerence – the intrusive thoughts, irrational behaviour, and distress caused by person addiction. They tend to contrast it unfavourably with healthy, mature love. I've commented on this before, but I just recently realised that two of the commonest dilemmas that people contact me about are actually linked by this ambiguity between limerence and love (although they don't obviously seem so at first glance). This is quite a big topic, so I'm going to tackle it over two posts.
Here are the dilemmas, summarised by comments from two recent correspondents:
My problem is that I lose all romantic feelings and attraction for my partner after a year or 2. I completely lose interest no matter how much in love I was at the beginning.
The heart of the problem here is the strong mental association between limerence and love. When falling out of limerence, the conclusion is reached that they have fallen out of love, and that leads to the final conclusion: this romantic relationship is over.
For some people, this can be the truth of their lives: serial monogamy for one LO after another, but no longer-term relationships that have lasting romantic connection. In contrast, limerence can give way to lasting romantic love of a more stable but less exciting kind, which leads to long-term bonding.
For others, though, there is a less satisfactory compromise: a few limerent love affairs, until one results in legal and/or social commitment (perhaps precipitated by external circumstances), which then settles into a lasting relationship that has lost its romantic impetus, but persists because of duty and responsibilities.
That scenario commonly leads to the second dilemma:
I love my husband and he is a good man but we haven't had sex for nearly two years (he just doesn't want to, but refuses to talk about it). I'm now deep in an emotional affair with my boss and nearly going mad with lust!
So what links these two dilemmas? Well, even by just spelling out the different scenarios above, the basic issue is obvious: there are multiple different kinds of love.
This is not a novel observation.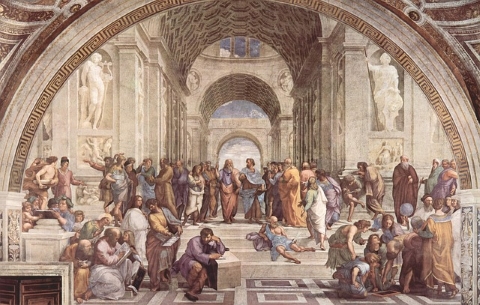 The Greeks classified love into seven principal forms – eros, philia, pragma, storge, agape, ludus and philaupia – and since then there have been many other attempts to demarcate or classify love into different types (such as color wheels, triangles, languages and, indeed, limerence).
There's a good summary of the ancient model here, but very briefly, here's how the forms break down:
Eros – erotic, sexual love.
Philia – emotionally deep, life-enriching friendship.
Pragma – practical, co-operative commitment, for mutual benefit.
Storge – affectional bonding of a familial, unconditional nature.
Agape – spiritual or altruistic love that transcends (e.g. love of God).
Ludus – playful, but casual love, without deep commitment.
Philaupia – self-love (in the self-esteem, rather than masturbation, sense).
One further type that some psychologists and philosophers include is mania – being a sort of obsessive, possessive, and jealous love of the insecurely attached.
In reality, of course, most of our meaningful relationships are characterised by some blend of these various forms of love. That is the tension at the heart of much of the pain caused by limerence, including for my two correspondents. How much do the different forms of love matter, how do they change with time, and how does limerence relate to it all?
Well, as promised, I'm tackling this over two posts. Today is how limerence relates to these classical forms of love, and part two will cover what to do about it all.
Let's jump in…
How does limerence map on to the different forms of love?
Oh my, it's complicated. Only way through this is to take them one at a time.
Eros: obviously relevant, as limerence almost always involves sexual desire. Philia: commonly essential for deepening the emotional bond and for singling out an individual as a desirable LO rather than just an object of lust. Pragma: the least relevant form – practicality is rarely a consideration in limerence. Storge: of little relevance early on, but as limerence progresses the feeling of bonding becomes more and more important. Real storge takes time, though. Agape: many limerents report a feeling of selfless admiration, and a numinous, transcendent quality to their longing for LO. Complicated to disentangle this from idealisation, though. Ludus: more obviously a non-limerent form of casual romance, but playfulness and teasing is very attractive to many people, so could stimulate the glimmer. Philaupia: most relevant to how resilient limerents will be once they succumb. Those with low self-esteem are more vulnerable to predatory LOs. If we also include mania, then we can add the obsessive thinking and unstable moods of limerence too.
What a tangle! For me, the obvious conclusion is that limerence does not map simply onto any one of the long-established forms of love. So, limerence is not a separate form of love or a phenomenon that is only experienced by people who love in a particular way, it's a combination of many of the different forms.
Limerence as a concept seems to fits much better with the three stage model of romantic love proposed by Helen Fisher where a relationship progresses through lust, attraction and then attachment. Limerence colours (possibly even, determines) the experience in each of those stages, through a personal combination of the forms of love that we are all variously prone to.
As a final note, though, I can't not comment on the killer combo of a LO with ludus and a limerent with an eros/philia blend.
So, what is limerence then?
If limerence isn't a distinct form of love, what is it? Well my argument has always been that it's best understood as an altered mental state – a change in psychological "affect" caused by the neurochemical response to a hyperstimulus (LO). Limerence leads to an increase in libido, an increase in physiological arousal, an increase in motivational drive, and a general intensification of feelings that will impact on nearly all aspects of mood, and even cognition.
It's likely to be a volume control or amplifier for all aspects of love. Most immediately, eros will spike, but limerence will also ramp up desire and attraction, singling out LO as an object for philia – emotional as well as sexual connection.
In fact, true philia or storge (and even pragma) takes time and experience to build to being meaningful, but limerence seems to intensify the promise of those forms of love. In the grip of limerence, the LO seems a source of emotional succour and thrillingly interesting and attractive. Someone you want to spend time with and bond with, someone who seems to offer the promise of lasting philia, coupled to eros.
When limerence fades, what remains of that promise? That's where my first correspondent finds herself: repeatedly disappointed by the residual feelings that remain once the limerence amplifier is unplugged.
This could be due to a mismatch between people who stimulate eros/ludus excitement and people that stimulate philia. Or, it could be due to a very close psychological association between limerence and libido, as I've speculated before, meaning that sexual desire only lasts as long as limerence lasts. But, it could also be due to a mismatch between expectations and reality when it comes to long-term bonding.
And that leads us to the end of part one. Next week: how to respond purposefully to our twin dilemmas.